Window & Glass Replacement Buckeye, Arizona
Do you have a house window that chipped or cracked? Is there a broken glass shower door that needs replacement? Superior Replacement Windows serving Buckeye, Arizona is here to help. We are a window and glass contractor providing a complete range of residential glass replacement services including insulated windows, glass shower doors, sliding glass doors, glass table tops, mirrors and commercial glass.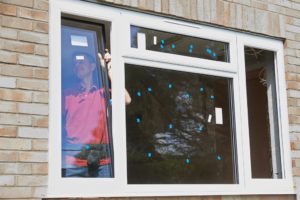 It is easy to overlook the importance of glass and window replacement services until you need it. However, windows can be vital aspect of your home's heating and cooling system, especially for those living in the desert of Buckeye, AZ and surrounding areas. Upgrading your windows to the latest in energy efficient technology can save you hundreds of dollars every year in heating and cooling costs.
The professionals at Superior Replacement Windows understand this, which is one reason they are passionate about everything window-related. Not only do windows provide safety, but good quality windows and installation can also save you money. Quality glass and installation provides insulation, which helps keep conditioned air in your property. The AC will not have to work as hard to replace lost conditioned air, which should reduce your energy costs.
d windows and installation also provide the maximum amount of sound proofing possible. This is great, especially for those living in busy areas where sound pollution can be quite bothersome.
If you have a window that needs repair, inspections are highly recommended because they help determine if you need window repair or window replacement. When the window seal is compromised, a replacement is necessary. If the fault is a surface defect or chip, it's possible the window can be repaired depending on where the defect is located. The experienced window glass installers at Superior Replacement Windows in Buckeye, AZ are experienced in determining what is needed to get the job done right and will provide expert glass advice during the upfront consultation.
Are you having a hard time finding a glass replacement in Buckeye? Please give us a call and describe your project. We have many types of glass available at Superior Replacement Windows, such as decorative glass, arched glass, architectural glass and bullet proof glass. By discussing your project with one of our glaziers, we can usually point you in the right direction.
Be sure to ask about our complete range of sun screens that help reduce the heat and UV rays, golf ball screens and security screens. These screens are specialized window treatments and can help keep your property comfortable and safe.
We know you have choices when it comes to your glass replacement needs. Superior Replacement Windows is proud to be a local Buckeye family owned window company and we strive to provide the highest quality window products and customer service. If you are a Buckeye homeowner or business owner, please contact us today for any questions you have about windows or glass.